Popis produktu
Nikon-G/F to Micro-4/3 mount Speed BoosterTM  adapters designed exclusively for the Blackmagic 2.5k Cinema Camera (BMCC). Note that the new Speed Boosters will only attach to Blackmagic cameras equipped with a Micro-4/3 mount.  They cannot be attached to standard Micro 4/3 cameras.
The new 0.64x Speed Booster reduces the full-frame crop factor of the BMCC from 2.39x to 1.53x, thus effectively transforming it into a Super-35 format cine camera.  In addition, the speed of any attached lens is increased by 11/3stops, with a maximum output aperture of f/0.80.  For example, a 50mm f/1.2 becomes a 32mm f/0.80, and Sigma's new 18-35mm f/1.8 will become an 11.5-22.5mm f/1.1.
Table of compatibility and resulting crop factors: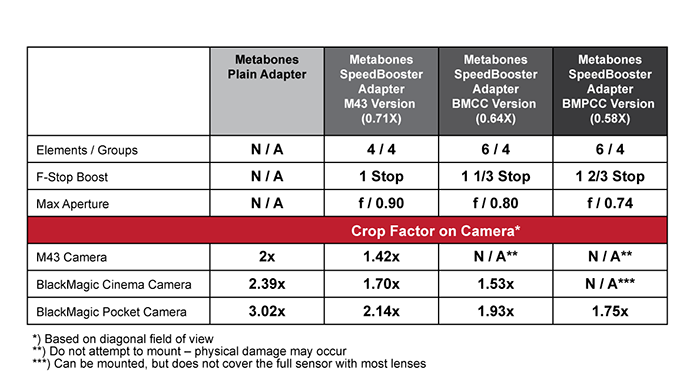 Features:
Industry's best aperture ring covers a 8-stop range with half-stop markings, clearly indicating actual number of f-stops. No more guesswork! (Patent pending).
Compatible to both Nikkor G lens &  F lens (include non-AI & AI lens mounts).
Increase maximum aperture by 11/3 stop. (with a maximum output aperture of f/0.80)
Increase MTF.
Makes lens 0.64x wider.
Click-less manual G aperture ring.
Optics designed by Caldwell Photographic in the USA (patent pending).
The tripod foot is detachable and compatible with Arca Swiss, Markins, Photo cam ball heads.
Tips: Before mounting your lens to the adaptor, please make sure that the f-stop of aperture ring on the adaptor is turned to "7″ (i.e. mounting your lens to the adaptor while only the aperture ring in the adaptor is full closed.).
Remark: This mount is manual aperture control. It does NOT support electronic aperture control.
Disclaimer: we are NOT licensed, approved or endorsed by Micro Four Thirds or Nikon
List of incompatible lenses
Nikkor 2.1cm f4
20/2.8 AI-S