Popis produktu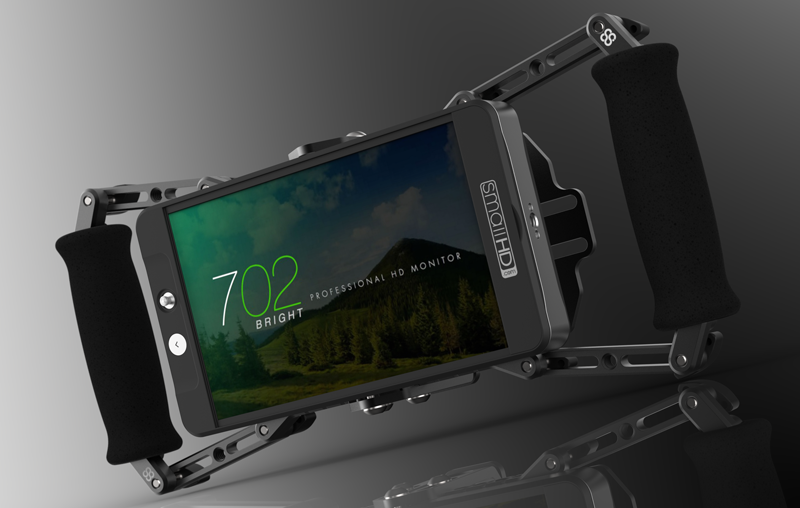 Having a dedicated directors monitor is essential for any project. Keeping it movable, and protected is just as important. That's where our directors monitors cage comes in. The 8Sinn directors monitors cage enables you to be on the go while keeping your monitor safe. It's fits several different monitors and with quarter 20 threads all over you can mount several types accessories. To articulating arms, wireless receivers and battery mounts. The 8Sinn directors monitors cage has got you covered.
FULLY ADJUSTABLE TO FIT MOST 5-8" MONITORS
Save your money thanks to having only one directors monitor cage, that can be use to several monitor types / size.
COMFORTABLE GRIP
Enjoy using the 8Sinn Directors Monitor Cage thanks to comfortable grip, which is made from good quality and pleasant to touch foam .
MANY MOUNTING POINTS
8Sinn Directors Monitor Cage is equipped with many mounting points, which allows you to mount various accessories.
ALLOWS TO ATTACH SUNHOOD
Thanks to the possibility of sunhood attach, your monitor is protected in an extra way.
A LOT OF CONFIGURATION OPTIONS
That design allows you to adjust the cage suitably to your needs.
8Sinn Directors Monitor Cage is suitable for:
SmallHD DP4, AC7, DP7, 500 Series, 700 Series,
Blackmagic Video Assist,
Convergent Design Odyssey 7, Odyssey 7Q+,
Atomos Ninja Assassin, Atomos Shogun, Atomos Ninja Blade, Atomos Samurai Blade
and more…
Set includes:
1pcs 8Sinn Directors Monitor Cage
12pcs 1/4″-20 x1/2″ socket button head cap screws
8pcs M5x16 screws
4pcs M3x12mm screws – for V-Mount plate or Gold Mount plate
4pcs M3x16mm screws – for V-Mount plate or Gold Mount plate
1pcs Hexa key 4mm
Optionally: V-Mount or Gold Mount Battery Plate (Not included in the set)
Specification
Dimensions: height 152mm, width adjustable to 331mm, depth 75mm
Weigth : 510 g